Thursday, July 10, 2008 by Billy
I went to Lyon yesterday. When you come from Paris, it is a short and easy trip: about 500 km, two hours by
TGV
. I planned it meticulously several months ago though, when I heard Leonard Cohen would make a stage there on July 9, on his first tour in 15 years.
Obviously, L. Cohen is not any more the young writer of Beautiful Losers I blogged about lately. He is not any more either the folk singer who created Suzanne and Famous Blue Raincoat. He is a 73 year-old man with a history.
Although he was born in a Canadian Jewish family, and says he has always remained a Jewish, he has embraced Buddhist philosophy for decades. He spent several years in the nineties on Mount Baldy, a Buddhist retreat in California, then went back to the world, had most of his money stolen by his manager, recorded two more albums (Ten new songs in 2001, Dear Heather in 2004), and in 2008, at last, decided to tour again, starting with his homeland Canada, then Europe.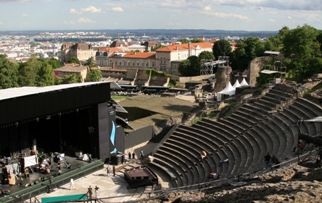 The Roman Theatre in Fourvière (Lyon)
Lyon was his first stage in France, before Nice on July 22 and Paris in November. The show was a unique evening performance in Les Nuits de Fourvière, a summer festival held every year from June to August in the marvelous site of the Roman theatre.
A very special place for a very special singer, the Roman Theatre was built more than two millenaries ago, during the reign of Augustus in 15 BC, as the centre of the Roman city of Lugdunum. It is just the best place you can dream of to be at a show. Just have a look at the picture above, I took yesterday in the afternoon, when they were making the stage ready : the site is gorgeous and its maximum audience is about 3,500 only, which means you're close to the stage wherever you sit.
At 21:30, the show began. Leonard Cohen arrived on the stage half-running, a puny-looking white-haired man with a trilby hat. He said "bonsoir", and for the first time in my life I saw a crowd cheering an artist with a five-minute standing ovation *before* the concert.
He then said the first lines of a poem every French-speaking person in the audience recognized at once:
Danse moi à ta beauté
Avec un violon en flammes,
Danse moi dans la panique
Jusqu'au repos de mon âme...

Dance me to the End of Love
... it was a French translation of Dance me to the end of love, his musicians then began playing while he switched to English and started singing. He would later introduce most of his songs the same way during the first set, with a few lines translated into French. He talked in French also sometimes, so that everybody in France remembers (how could we forget it?) he is also a Québécois, born and raised in Montréal.
The Future, There ain't no Cure for Love, Bird on a Wire, Everybody Knows... and so on, Leonard Cohen sang 23 songs, including 5 encores, with his deep and steady voice.
The whole of the show was very professional, thanks to the musical direction by Roscoe Beck (who plays the bass in the band also), but the professionalism of the performance did not lessen the emotion the lyrics gave vent to, of which the meaning so often goes beyond the words.
The three vocalists sang beautifully — Charley and Hattie Webb, the Webb sisters, and Sharon Robinson, that Cohen repeatedly referred to as his collaborator — she is the co-writer of several songs. Every musician was good, and was individually named by Cohen several times during the show after their solos: besides Roscoe Beck on bass, there was Rafael Gayol on drums; Neil Larsen on keyboards; Bob Metzger on guitar; Dino Soldo on, well, maybe ten different instruments, from saxophone and other woodwinds to synthesizer and blues harmonica; and last but not least, Javier Mas who played several stringed instruments, among which the Oud, in particular as a wonderful airy introduction to Who by Fire.
Between songs, applause was so loud sometimes that Cohen had to repeat
merci, merci, thank you, thank you so much
, until he was "allowed" to sing the next song.
In order to make the stone-built terraces more comfortable to the public, organizers had kindly provided recyclable and reusable cushions before the show. After the first encores, people started throwing their cushions to the stage, like frisbees. Several landed on there, which surprised Leonard a lot at first, then made him laugh and take his hat, mimicking he would throw it back into the public. One of the Webb sister even took a camera and made pictures of the scene, and apparently kept one cushion as a souvenir also.
The concert lasted about 3 hours, according to my watch, since it told it was 00:35 when Leonard and his band left the stage for the last time.
"On n'est pas pressés" he would say during the show indeed (we're not in a hurry). I suspect my watch is a liar though: I can swear the whole performance certainly did not last more than half of that time.