Monday, April 28, 2008 by Billy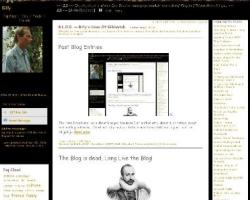 T
he more I read and learn about Blogger, the more I am enthusiastic about it, or rather, about real weblog softwares. I had not fully realized before how poor a blogging tool Yahoo 360° is. For example, you can easily post one picture at the beginning of posts, but if you want to illustrate them with several pictures, you must write a couple of lines of HTML code for each pic, which is annoying and time consuming.
Also, among the points I missed most in Yahoo was the lack of real archives and research tool. Now that it is a total mess there, I can hardly — or not at all — have access to many of my own posts, even if I remember when they were posted.
Fortunately, I've kept a copy of every blog I posted on Yahoo. Some of them are worth not being lost in the ether of Internet cyberspace, methinks. Since you can back date your posts in Blogger, I will do that, for some old blogs of mine I like particularly, in forthcoming days or weeks.