Thursday, April 10, 2008 by Billy
Manhattan by Woody Allen (1979)

"Fifty-five seconds. That's the time Woody Allen needed, in 1979, to make this place — in his dear Upper Side, by the East River — one of the most famous places in the world. A pilgrimage as much necessary to lovers than Venice [...] This sequence is made in the image of Woody's Manhattan: it's a dream, a fantasy. One more time, artifice created the reality of art."

(Pierre Murat)
Simon & Garfunkel – The 59th Street Bridge Song (Feelin' Groovy)
Every week on Wednesday, I will receive
Telerama
, a French culture magazine to which I subscribe. I have not received this week's issue of the magazine though, because I left home before mail distribution yesterday for a one-week trip to New-York City. However, I found out what is the main topic of this week's issue of the magazine when I reached Charles de Gaulle airport: the cover coincidentally ran
New-York, 24 hours in the life of a city
. Of course, I bought it and read it in the plane.
I translated into English a few sentences of an article by Pierre Murat about New-York and the cinema, that was illustrated with the iconic photo above, part of the famous sequence in Woody Allen's movie Manhattan.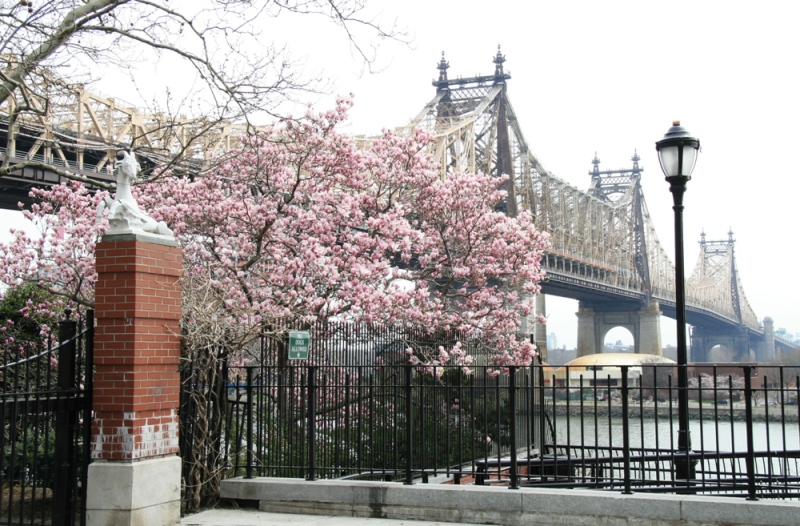 Queensboro bridge.
Upper East side, Manhattan — April 2008
Woody Allen is considered one of the main US film directors by the French – whereas I've been told he is not acknowledged as such in his country – and I love Manhattan particularly.
I have wanted for years to be in this place, in the same way people from elsewhere may long to go and see the banks of the Seine River. Because of the movie by Woody Allen, because of the song by Simon and Garfunkel also. So, a couple of hours after the plane landed only, I was at the Eastern end of the 59th Street in Sutton Place Park and was gazing at the Queensboro Bridge.
It was 10 am in Paris when my plane took off yesterday. It was about 5 pm in New-York on the same day when I took the picture on the right. A dramatic scene shift in a few hours from Amélie by Jean-Pierre Jeunet to Manhattan by Woody Allen, sort of.