Tuesday, April 1, 2008 by Billy
Built between 1887 and 1889 as the entrance arch for the Exposition Universelle, a World's Fair marking the centennial celebration of the French Revolution, the
Eiffel Tower
has become a global icon of France, and one of the most recognizable structures in the world.
It wight have a new look next year though, in time for its 120th anniversary: Serero Architects of Paris recently won an open competition to redesign its public viewing platform and reception areas. According to the new plan, the top floor plate of the tower would be extended by grafting a high performance carbon Kevlar structure on it.
A spokesperson for Serero explained that the plan to restructure the top of the tower aims to increase the quality of access. I would be useful indeed, because the average waiting times for the tower's elevators currently run at more than an hour at peak times.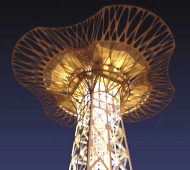 The design is already causing controversy. Some think it would be pleasant to see the Old Lady with a new appearance. On the opposite, critics question the wisdom of tinkering with the famous silhouette and spending money on upgrading a tourist attraction which attracts 6.9 million visitors a year. Others wonder if this is something else than a promotion campaign for the architect team... It would not be the first time that the Eiffel Tower is used for promoting a hoax.