Saturday, March 14, 2009 by Billy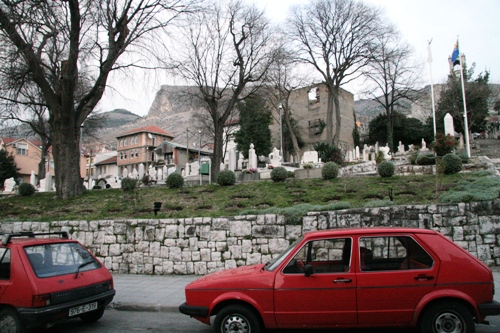 A graveyard inside Mostar — March 14, 2009
There are many little parks in the city, with grass and trees. Anywhere else, such places of greenery would be called 'public gardens'. Not in East-Mostar though, because there are tombs between the trees. Dozens of tombs.
Each tomb is engraved : it displays a name, a date of birth, a date of death: 1993 usually. Thousands of people died during the civil war in Mostar, and graveyards seem to have replaced public gardens.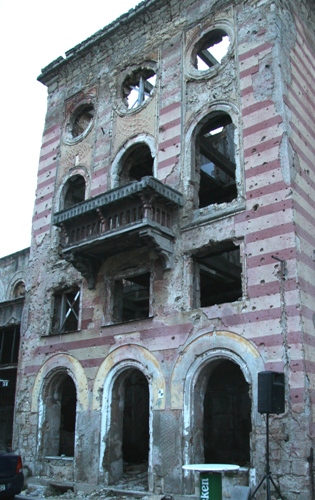 The war in Bosnia ended fourteen years ago but you can still see it everywhere. The streets and avenues are lined with destroyed buildings, dangerous ruins of which the fronts are riddled with holes of bullets and shrapnel. There is a same poster everywhere, that warns people against going into the ruins, children against playing there.
Constructions are coming on slowly in Mostar apparently. They are rebuilding, but you can guess that money is lacking.
Stari Most, the Old Bridge after which Mostar was named, was the symbol of the city, and a chef-d'oeuvre of Ottoman architecture. It was commissioned by Suleiman the Magnificent to Mimar Hajruddin, a pupil of Sinan, "the father of classic Ottoman architecture".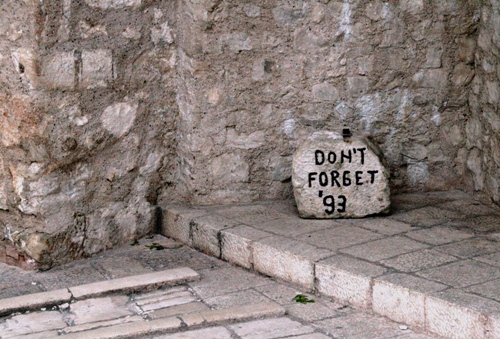 On Stari Most, close to the right bank
Built in 1566, Stari Most consisted of a single 30 metres long hump-backed arch that stood more than 20 metres above the green waters of the Neretva River. It had withstood all sorts of calamities, invasions, wars, and even earthquakes.
Nevertheless, it was destroyed when Croats and Bosnians, who used yet to be allies against the Serbs during the civil war in Bosnia (1992-1995), fought during one year in Mostar. On November 9, 1993, the Old Bridge was destroyed by the artillery of the HVO Croatian forces, allegedly to stop Bosnian troops, in reality for its symbolic value as an Ottoman piece of art and a link between communities.
Stari Most, the Old Bridge — March 14, 2009.
Under the aegis of the UNESCO, and thanks to a loan from the World Bank and grants from donor countries, the Old Bridge was rebuilt for the very same reason: as a symbol of peace and tolerance.
After two years of scientific and archeological research, it was rebuilt in 2004 exactly as it was, using identical blocks of white stones found in nearby quarries and according to traditional methods, using quoins, cramps and dowels. It is now listed as a World Heritage Site.