Wednesday, March 11, 2009 by Billy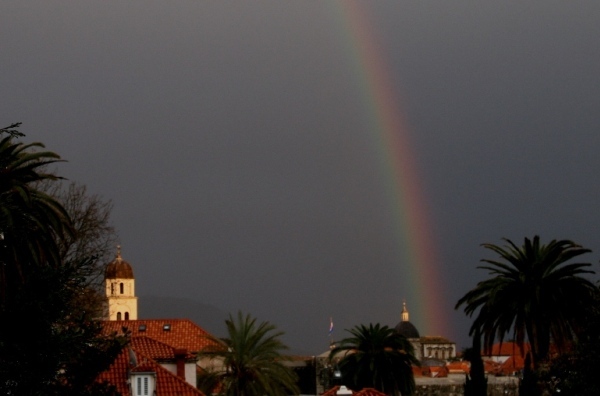 A rainbow in Dubrovnik — March 11, 2009.
Dubrovnik this evening bears scarcely any resemblance with the sunny, exuberant city they talk about in the guide I read in the plane this morning.
The crowd that was supposed to fill the streets of the old town, was made up in actual fact of one tourist with a camera, a couple of local women doing the shopping for tonight's dinner, and half a dozen schoolboys messing around at a bus stop.
Hors-saison (Off Season)
by Francis Cabrel
It has been raining the entire day in Dubrovnik, and now it's getting dark. We're in the off season undoubtedly.
The atmosphere makes me think of a song by Francis Cabrel, that says:
C'est le silence qui se remarque le plus,
Les volets roulants, tous descendus,
De l'herbe ancienne dans les bacs à fleurs sur les balcons,
On doit être hors-saison.
La mer, quand même, dans ses rouleaux continue
Son même thème, sa chanson vide et têtue,
Pour quelques ombres perdues sous des capuchons,
On doit être hors-saison...
What you notice most is silence,
Rolling curtains, which are all down,
Some old grass in planters, on the balconies
We're probably in the off season.
Yet the sea, with its rollers, goes on
Its only theme, its empty and obstinate song,
For a few shadows, lost under their hoods
We're probably in the off season...
Yet, when I went out of the hotel a moment ago, there was a wonderful rainbow over the ramparts of the old town and the sea, standing out against the dark sky. Without rain, you cannot have rainbows, can you? Hurrah for the rain then. Anyway, a few drops of water will not prevent me to get to know the ancient city of Ragusa tomorrow.