Wednesday, June 4, 2008 by Billy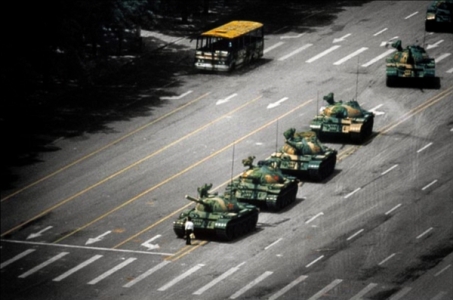 Beijing — June 1989.
During several weeks in the spring of 1989, hundreds of thousands of students gathered together in continuous peaceful protests in several cities throughout China, against the policies of their government.
On June 4th, 1989, the Chinese State ordered an end to the demonstrations that had been taking place on
Tiananmen square
in Beijing. Infantry and tanks were deployed against the unarmed people. Several hundreds were killed, thousands perhaps. 19 years later, and a few weeks before the Olympic Games are held in Beijing, about 130 persons are still imprisoned in China because they dared protest in 1989.
On the day after Tiananmen slaughter, a single man shocked the world, when he stood alone before a line of tanks and made them stop and turn off their motors.
Nobody knows who this man was. Nobody knows if he could make it at the end. Maybe he is one of the 130 people still imprisoned since 1989. Yet this anonymous, ordinary person, with shopping bags in both hands, has become an example of human courage and struggle for freedom. He is an icon of the 20th century.
(Repost of a blog published on the same day last year
on Yahoo 360°, with a few changes)