Tuesday, June 17, 2008 by Billy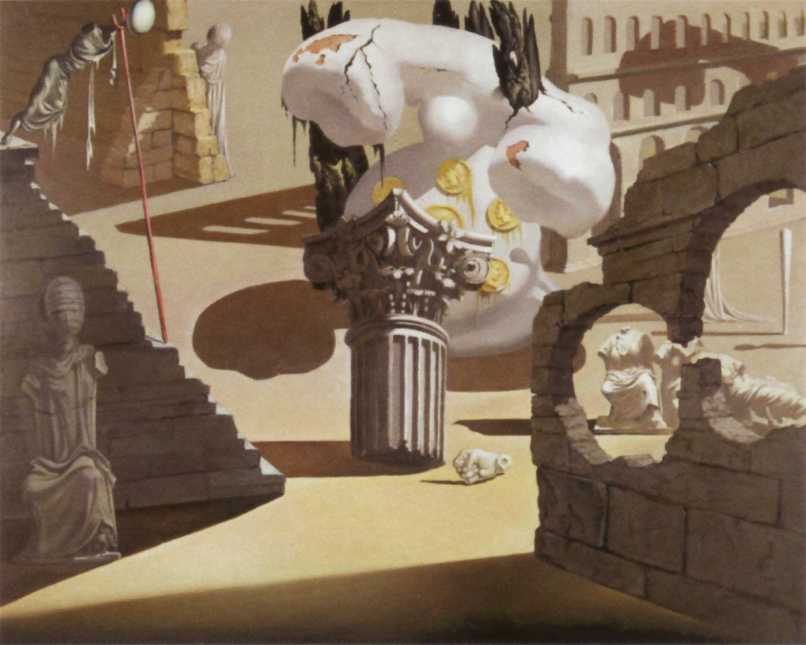 Destino — White telephone and ruins
(1946, Oil on plywood, 60.6× 47.9 cm)
Although it is hard to imagine two more widely separated artists, Salvador Dalí and Walt Disney admired one another.
Dalí made no secret of his interest in Disney: as soon as in 1937 he wrote to his friend, the French Surrealist André Breton: I have come to Hollywood and am in touch with the three great American surrealists — the Marx Brothers, Cecil B. DeMille and Walt Disney.
On his side, Disney loved to have contemporary artists involved in his films, although relationship with them was sometimes stormy.
More than sixty years ago then, the idea was born of a short film collaboration between Salvador Dalí and Walt Disney. Disney probably made the suggestion to Dalí when the latter was in Hollywood in 1945, working on Alfred Hitchcock's film Spellbound. Dalí worked on the storyboard in the Disney Studios from February to April 1946. The film was originally planned to combine real footage and animation and tell the story of the ill-starred love of a ballerina and a baseball player. It was called Destino, after a ballad by the Mexican Armando Domínguez which was to accompany it. However, Disney Studios could not complete the film for financial reasons... at least during the lifetime of the two men.
More than a hundred paintings and drawings had survived though. This material enabled the Disney Studios, in 2003, to make a six minute film directed by Walt's nephew Roy Disney and the French artist Dominique Monfery. I watched it several months ago — several times in a row — in the Galeries Nationales du Grand Palais in Paris, at an exhibition entitled Il était une fois Walt Disney (Once upon the time, Walt Disney), that surprisingly connected Disney's original drawings to occidental artworks that inspired them, from Gothic Middle-Age to Surrealism. The whole film is not online, but here is an excerpt found on YouTube:
Destino (2003)
The six-minute short movie is a digest of Dali's imagery, without much of a spot to speak of, but deserts, telephones and ruins, melting clocks and ants, all morphing from one to the other. It is like a last message from Dalí, long after he passed through the looking glass himself.