Wednesday, April 15, 2009 by Billy
[The discussion born from the comments about the recent blog 'Eating together' made me think of several old blogs of mine about food, that disappeared when I deleted my other blog on
Yahoo! 360
. This post was published in May 2007]
-:-:-:-:-:-:-:-:-

I was in a bookstore in Chicago several months ago, looking for medical books, when I happened to glance through a little book called
Mindless Eating
, by
Brian Wansink
, a professor at Cornell University, NY. The experiments depicted in the book were clever, and often funny.
I remembered of it yesterday when I came upon an article by
David Leonhardt
in the
International Herald Tribune
(
The Herald
is an international newspaper in English, based in Paris, that combines the resources of its own correspondents throughout the world with those of
The New York Times
). Leonhardt began his article by telling about an experiment I especially remembered because the idea of eating lots of stale popcorn almost made me sick when I was in this bookstore in Chicago.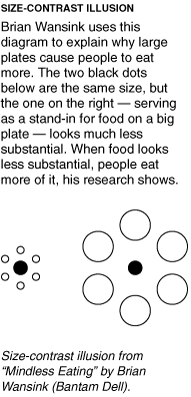 Mr. Wansink gave away five-day-old popcorn — "stale enough to squeak when it was eaten," he wrote — to moviegoers one day at a theatre in the Chicago suburbs. The crux of the experiment lay in the size of the buckets that held the popcorn. Some people got merely big buckets, while others received truly enormous ones. Both sizes held more popcorn than a typical person could finish.
Yet when the Wansink research team weighed the buckets after the movie, there was a huge difference in the amounts the two groups ate. Those with the bigger buckets inhaled 53 percent more on average, suggesting that a lot of stale popcorn is somehow more appealing than a little stale popcorn.
Over the years, Mr. Wansink has done similar experiments with everything from different-size dinner plates to bottomless bowls of tomato soup that are secretly connected to a tube underneath a restaurant table. His overarching conclusion is that our decisions about eating often have little to do with how hungry we are. Instead, we rely on cues like the size of a popcorn bucket — or the way we organize our refrigerator — to tell us how much to eat. These cues can add 200 calories a day to our diet, but the only way we'll notice we are overeating is that our pants will eventually get too tight.
The scariest part is that most of us think we are immune to these hidden persuaders. When the moviegoers were told about the popcorn experiment afterward, most of them scoffed at the idea that their bucket size had any effect on them.