Friday, April 24, 2009 by Billy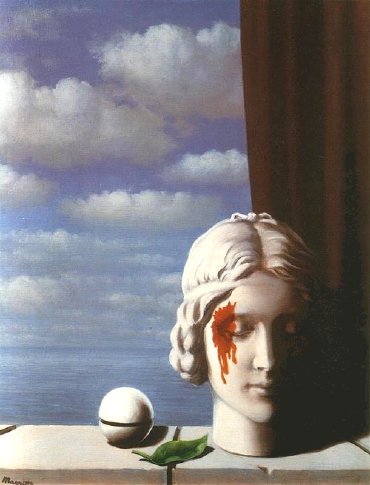 La mémoire (Memory)
René Magritte, 1948
Oil on canvas, 59 x 49 cm
As I was taking an old lady to the exit door, the next patient in the waiting room rose from his chair and sneaked behind my back into the consultation room. No secretary in sight. I went back in, closed the door, and started wondering... I know I have seen this man before, but when? why? and what is his name?
— 'Please have a seat. How can I help you?' He put his coat on a chair, sat down on the other one, folded his arms, and said with determined voice:
— 'Doc, we have a problem: I am not doing better at all!'
I have a problem indeed, I thought: I don't have a clue about what on earth is his problem. I can't even put a name on his face!
— 'Oh, really?' I said, hopeful he would give some piece of information.
— 'Yes, Doc. I took the drug as you prescribed, yet it's still about the same!'
— 'Don't you feel any better?'
— 'No, not at all! It goes on just the same! I have waited for a couple of weeks as you told me, but it didn't stop. Then, here I am again!'
He was talking with such an assured tone that I could not tell him I didn't remember a thing of his story. If only I could remember his name, I'd have a quick look at his record...
— 'Did you bring your previous prescription?'
— (Rummaging through his pockets) 'Aw, I forgot it at home I am afraid. It's easy though: these are white pills, in a blue box. Well, it doesn't mind anyway, you wrote it down in my record'.
— (This guy is going to kill me) 'Of course, you're right. Tell me, when did you come and see me the last time?'
— 'Hmm, wait, well, it was a Friday, or maybe a Tuesday. Or was it a Wednesday? Well, in any case, it was four weeks ago! Five perhaps. Well, not more than six weeks ago, definitely".
As he was thinking about it, I tried to find his name in my agenda. Fortunately, I have only one consultation a week in this hospital, on Mondays. Not that week... Not that week either...YAY! Here it is, lost among more familiar names. He came three months ago, the day I had such a dreadful headache! Phew. Relieved at last, I took out his record and read it quickly. With a smile of contentment on my lips (that surprised him obviously), I said:
— 'So, you are not doing better? Well I never!'