Wednesday, April 8, 2009 by Billy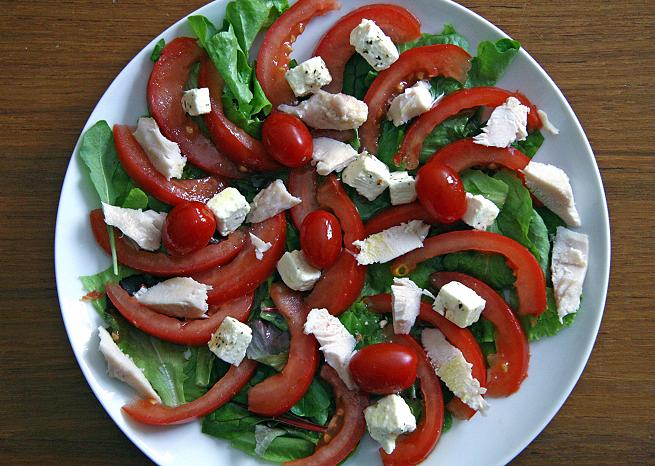 The starter I've prepared for dinner: a few cherry tomatoes and a big sliced one, feta cheese, some lettuce, a bit of chicken cut in dices, olive oil, vinegar, pepper, salt, that's it. Bon appétit!
'French women don't get fat'
, a US best-seller book stated. It's almost true: despite their food is usually considered rich, the French have the average lowest corpulence in Europe, relatively low rates of diabetes and coronary diseases, and are among the people with the longest longevity. Many reasons have been given as an explanation for this
French paradox
, that include habits of eating small portions of several foods rather than one huge portion, using olive oil, eating a lot of dairy produce and vegetables, drinking red wine, and walking rather than driving for short distances.
According to a recent study by the
INSEE
, the
French Institute of Statistics and Economic Studies
, there may be also another cultural reason: the
ritualization
of meals, a distinctive features of French people, most of whom still take their meals together at a given time. Such a synchronisation of meals, at around 13h for lunch and 20h for dinner,
'distinguishes France from most other countries in Europe and the United States, where traditional meal — conceived like a moment shared by all members of a family gathering together on this occasion — almost disappeared at the end of the 1970's'
, the study says.
Dinner, especially,
'is still a mandatory stage in daily timetable of the French, one of last refuges of family socialization'
. Indeed, it is often the only common activity for married people who go their separate professional life in the daytime, and the moment when parents and children have a time to talk together. Meals are not only considered a moment when you fill up your stomach as fast as possible, but a dedicated period of the day when you talk and share with your family.
I love the idea that gathering together and sharing meals is beneficial to relations between members of a family, and to health as well.
Oops, by the way... I got to go: it's 8:00 pm now, dinner time here!