Sunday, August 3, 2008 by Billy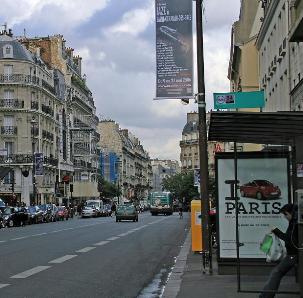 Paris, rue de Sèvres — May 2006.
I live in Paris. Paris is the capital of France. Twenty centuries ago, when France was called Gaul, Paris was called Lutetia. Gaulish people living in Lutetia were called the Parisii Tribe, hence the name later given to the city.
Like a lot of cities, Paris has been built on the banks of a river, and on a couple of small islands between the banks. This river is called the Seine river. It is my river, with gorgeous views and marvelous light. The left bank (la rive gauche) is where I live now, and will always rather have a stroll. The right bank (la rive droite) is where I work, and lived for long time in the past. I have a lot of memories in both areas.
I don't know every street in Paris for sure, but always know approximately where they are. I could hardly get lost in Paris, even on purpose. When I take the metro, I always know what direction I should take. I can explain to a taxi driver the way I want him to go. I know where the train stations are. I know the buses routes reasonably well. Also, I have a lot of landmarks here. A café, a monument, a park, a church... Paris is the place where I belong.
I love to stroll in my city. At random often. Sometimes, I take the metro or the first bus that stops where I happen to be, and get out of it later as the mood takes me. At other times on the contrary, I follow a well-prepared itinerary. At other times again I walk with constraints, such as "take the 1st street on the left, then the 2nd on the right, then the 3rd on the left, and so on" or any other silly rule I imagine on the moment.
It may sound crazy, but it is efficient: when you do this, you cannot but have another sight of places you think you know well. You discover small streets, tiny places or public gardens. You walk this usual street in the opposite direction, and it looks different. You reach by chance a place where you have not been for years. You remember friends who would live in this street long time ago, or see again the café where you once awaited that ravishing brunette who never came to the date.