Thursday, May 8, 2008 by Billy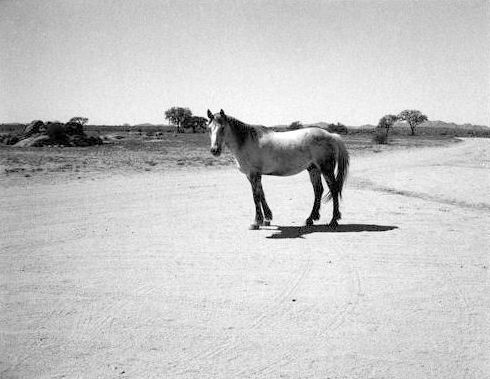 There are such moments in life: you look at a person you like, or love, and you realize in your deepest self that you will probably never see him or her again.

(Patti Smith, May 06, 2008 — approximate quote).
The Fondation Cartier pour l'art contemporain is an airy glass and steel building in the 14th arrondissement of Paris. It was designed specially by Jean Nouvel, also the creator of the Institut du Monde Arabe and the Musée du Quai Branly.
As the name indicates, it is devoted to contemporary art. That's also the building where the great, yet disturbing, exhibition of David Lynch's works I wrote about previously took place in 2007.
The Fondation Cartier is now displaying an exhibition dedicated to the visual work of Patti Smith, named "Land 250". Drawings, films, objects, and essentially photographs taken with a Land 250 polaroid camera. I went there past Tuesday, tooking advantage of evening opening hours.
I did not know that Patti Smith would be there in person on that evening. Few people knew obviously, since we weren't much more than 150 people there. I easily found a free space to be seated on a carpet, at 5 meters from her standing at the micro. It was not a show, nor a concert, but a lecture, a discussion with the public, questions and answers in both directions.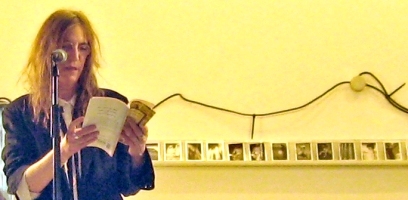 Patti Smith talked about her photos, about the poets she loves: William Blake, Arthur Rimbaud, Jean Genet, René Daumal. She sang a couple of songs, and read poems.
When someone in the public asked which photos she loved most, she did not answer, but said (quoting from memory): "I love some photos because they are technically, well... quite good" [laughing]. "There are also many photos that I love despite they are not that good technically, because they embody significant personal meaning: travels I made, people I met, objects that once belonged to people who mean something to me".
"For example", she added, "see this horse, on the poster of the exhibition. It's not a bad photo, it's not technically perfect though. Yet it means something to me. I took it in Africa, at the end of a horse ride. Just before we left the place. I was about to climb up into the truck, and suddenly felt a gaze on my back. I turned round, and it was him. The horse I had gone riding for several days. He did not move, he waited while I looked for my camera in my bag, looked at me when I focused and took this only Polaroid. Then, he went away. We both knew we'd never see the other one again."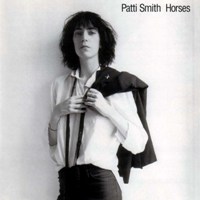 I could not help but think it was a shame this picture could not be used as the cover for her great album, Horses, 30 years ago.
The whole happening did not last more than 90 minutes, but it was pleasant and friendly, although the public was quite reverent and talked little (I am simply not sure most people were fluent enough in English to ask her questions).
After she left, I spent about one more hour wandering around the exhibition. Several photographs were good, but I did not felt the same as last year about David Lynch's exhibit, that it was a great artistic event. More than once, to tell the truth, I even wondered if these little photographs of beds, guitars and statues, or this stone "from the river where Virginia Woolf committed suicide" would be in an exhibition if they were not put in display by a famous rock singer named Patti Smith.