Saturday, May 24, 2008 by Billy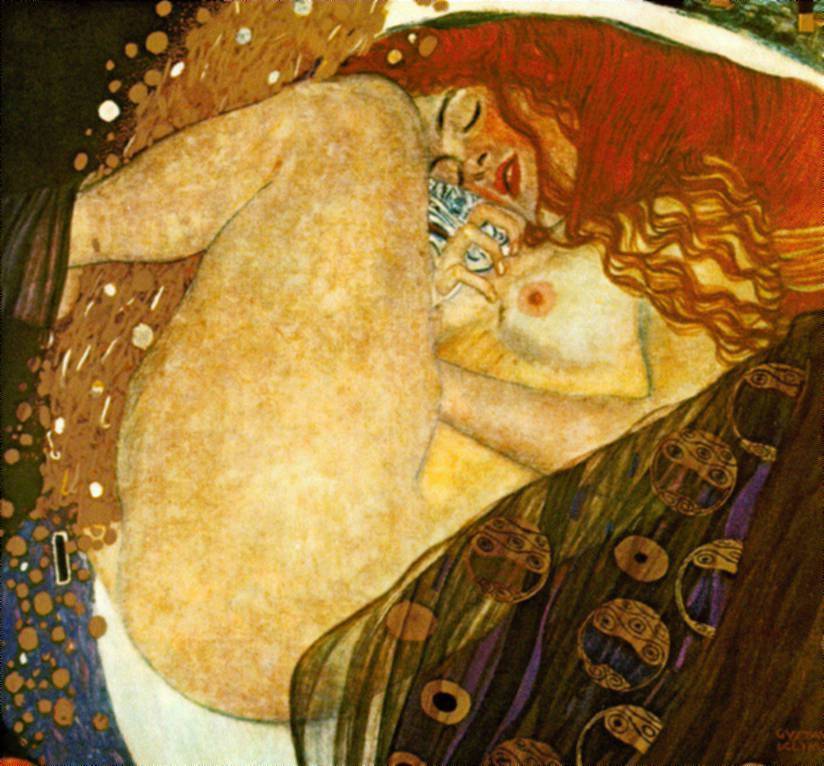 Danae (Gustav Klimt, 1906-1908)
Oil on Canvas, 77 x 83 cm
Several months ago, I went to a great painting exhibition at the Galeries Nationales du Grand Palais in Paris, entitled Vienna 1900.
The exhibition focused on four major figures of the Austrian Secession (Austrian term for Art Nouveau), between 1897 and 1918: Gustav Klimt, Egon Schiele, Oskar Kokoschka and Koloman Moser.
Shortly said, although I am not that enthusiastic over Kokoschka's paintings, it was among the best exhibitions I have ever seen, that showed how the distinctive treatment of space and perspective by these artists marked a revolution in pictorial language.
It was also an opportunity to see one of the most famous paintings by Klimt, Danae, which is usually part of a private collection in Austria. I have always loved this canvas, one of the most erotic paintings I know, that used a mythological subject as the pretext for a depiction of female pleasure.
According to Greek mythology, Danae was only daughter of Acrisius, king of Argos. After the oracle prophesied to Acrisius that his grandson would kill him, he locked Danae in a tower where nobody could enter.
Zeus however, the leader of all Gods, felt in love for the beautiful king's daughter. Despite every precaution taken, he felt upon the sleeping Danae as a golden shower, and she conceived Perseus. Several years later, Perseus would kill Medusa, rescue Andromeda from a sea monster, and kill Acrisius as predicted, by accident in an athletic contest, when the wind sweeps away his javelin.
The very moment when Zeus, as a golden shower, seeds Danae, had inspired many artists previously, from anonymous Greek artists...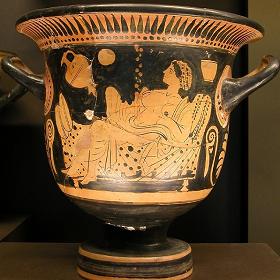 Danae and the Shower of Gold (ca 450 BC)
Bell-shaped crater, Musée du Louvre — Paris.
to Jan Gossart aka Jan Mabuse...
Titian...
Tintoretto...
... and many more.
Klimt painted Danae in 1906-1908, at the acme of his so-called Golden Period. At the time, he would use genuine gold leaf together with paint in his canvases! In Danae, the gold he used as a tool was not only associated with the colour, but the theme of the painting itself.
Klimt selected precisely the moment at which the golden shower falls between the legs of the sleeping Danae. He did not make use of any narrative scenery, yet he succeeded in fixing the erotic moment through the curves of the contoured form, the flowing streams of the ornament, the gossamer black veil revealing the woman's body, and the selection of an unusual view. The nude body itself becomes part of the formal composition.
Besides the mythological story, Klimt displayed on Danae the availability of the woman, concentrating on the representation of female orgasm. The red-haired woman here is not a Greek princess but the universal symbol of seductive femininity.