Saturday, October 24, 2009 by Billy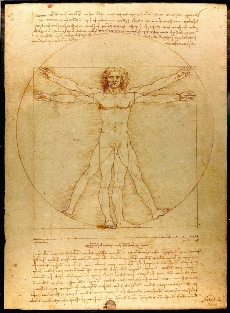 Leonardo da Vinci – Vitruvian Man (ca. 1492)
Ink on paper. 34,4 × 25,5 cm
Gallerie dell'Accademia, Venice.
I don't usually blog about my occupation and readings as a nephrologist. Yet I'll make an exception with the present blog, that deals with a topic I have discussed for years with colleagues from the USA: the concept of '
human races'.
I read an article today in the medical review Kidney International that expresses a feeling shared by many European doctors: discomfort at seeing the word 'race' used with such a light heart in the international medical literature in English.
The average people will not use the term 'race' in Europe as they commonly do in the USA. In the mind of everyone, for obvious historical reasons, the notion of 'human races' is closely linked to racism, slavery, and the Shoah.
In medical literature though, particularly in articles from the United States, the word is still of current use.
I was very pleased then to read an editorial by Eberhard Ritz from Heidelberg and Sarala Naicker from Johannesburg, entitled "Race: A call to change nomenclature", in which the authors provide strong argumentation for making a systematic change in all scientific communications from 'race' to 'ethnicity'. 
             [Kidney Int 2009; 76: 807-808. doi:10.1038/ki.2009.356]

Here are some lines of their article:
In scientific meetings and literature, the term 'race' is still widely used to characterize the genetic background of specific cohorts. This term has become completely anachronistic with modern genetic insights and should therefore be abandoned.
[...]
It makes no sense to categorize individuals according to skin colour — the density of the skin melanocortin receptor, likely selected to provide protection against skin damage induced by ultraviolet light, bears little relation to the diversity of the genetic codes of respective individuals. Dark skin is seen in populations as diverse as African populations and Australian Aboriginals, the latter of whom have a quite different genetic background.
The use of terms that refer to distinguishing traits such as skin colour, body shape, and hair texture leads the scientific community to magnify differences and ignore similarities between groups of people. Also, these traits are no more accurate in making distinctions between human groups than any other genetically inherited characteristics. We are an extremely homogenous species genetically; all humans today are 99.9% genetically identical. 
[...]
The concept of ethnicity is related to the Greek concept of ethnos, which refers to the people of a nation or tribe, and ethnikos, which stands for national. Hence, ethnicity refers to the ethnic quality or affiliation of a group, which is normally characterized in terms of culture.
[...]
The International Society of Nephrology is a global professional society of nephrologists and renal research scientists with a multicultural and multiethnic constituency. Its goals include the development of nephrology and prevention of chronic kidney disease through education, training, research, and public awareness in both the developing and the developed world. In view of the above facts, the executive council of our society finds it is appropriate to use the term 'ethnicity' rather than 'race' in our scientific communications.
Some will think this is nothing but political correctness. I disagree. Words matter. Besides, it certainly is not merely coincidental that the article was written by citizens of Germany and South Africa, two countries where History has shown that 'race' is not an innocent word.