Friday, October 16, 2009 by Billy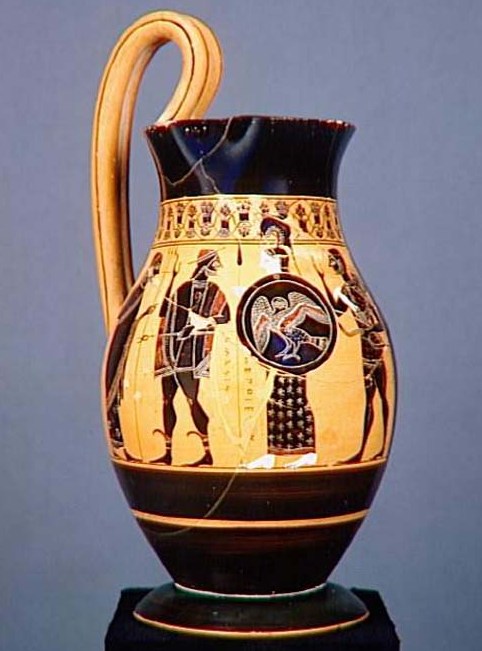 Amasis – Heracles entering Olympus
Attic black-figure olpe — ca. 550-530 BC
I have been an affiliate of Les Amis du Louvre (Friends of Le Louvre) for years. It is a patron of the arts foundations, which aims at increasing art collections in the Musée du Louvre in Paris. Also, it gives free access to the Museum, permanent collection and temporary exhibitions as well.
I probably visited the Museum more than a hundred times, I have not yet explored the whole of it though. In particular, I visited the department of Greek, Etruscan and Roman Antiquities on rare occasions only.
Because I read an article about Attic pottery lately, I decided to follow two Thematic Trails in that department of Le Louvre: Hercules trail and Greek pottery trail. More than 2500 years after they were made, Greek pottery pieces  are still fascinating. I especially valued so-called black-figure paintings on Attic vases.
A couple of vases displayed Hercules (Herakles in Greek), one of which is displayed above. After I followed both trails, I enjoyed myself seeking on the Internet twelve Greek ceramic that illustrate the twelve labours of Hercules.
Here they are (click on the pictures for bigger view and more details).
| | | |
| --- | --- | --- |
| | | |
| | | |
| | | |
| | | |
    [BbN #12]