Friday, May 8, 2009 by Billy
Marjane Satrapi
is an Iranian/French graphic novelist. She was born in 1969 in
Rasht
, in the North of Iran, and now lives and works in Paris. She became famous because of her critically acclaimed autobiographical graphic novels
Persepolis
, which describe her childhood and adolescence in Iran and Europe.
Persepolis graphic novels were adapted by herself and
Vincent Parronaud
into an essentially black-and-white animated film bearing the same name. The movie was called
'islamophobe'
and
'anti-iranian'
by the Iranian President
Mahmoud Ahmadinejad
, thus it is not allowed for broadcast in Iran. Yet it is not a political movie. It deals with life in the real world. It is a work of poetry for all of us to delight in.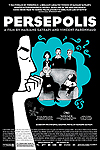 When the movie starts, Marjane is a child. She lives in Tehran, in a progressive family involved with the socialist movements. She attends the
Lycée Français in Tehran, and witnesses the growing oppression of civil liberties and the everyday-life consequences of Iranian politics. Then comes the Iranian revolution, the fall of the Shah, and the regime of Ayatollah Khomeini. After days of elation, disillusion follows quickly. Political opponents are put in jail again, many are executed, and islamist rules are imposed. Then the Iran-Iraq war starts. At the age of 14, her parents send Marjane to Vienna, Austria, to flee the Iranian regime. She discovers Europe, boys, and loneliness. She comes back to Iran.

The movie relates with realism and humour Marjane's years of hardship, she shared with million young Iranians of the time: overnight obligation to wear a veil, search for forbidden pirated audio cassettes, secret parties with friends where you dance and drink alcohol despite police raids.

Persepolis was awarded the Special Jury Prize in Cannes Film Festival in May 2007. Last Year, it was given the Better First Movie Award in the Cesar Award, the National film award for France. It also competed in Hollywood for the Oscar, as a nominee for best animated film, but had no chance against Disney's blockbuster Ratatouille.


Persepolis Trailer


Persepolis is a simple story told by simple means. It consists essentially of a series of monochrome drawings, their bold black lines washed with nuances of gray. Its flat, stylized depiction of the world — the streets and buildings of Tehran and Vienna in particular — turns geography into poetry. Yet it is good to be reminded that animation is rooted not in any particular technique, but in the impulse to bring static images to life.