Wednesday, November 5, 2008 by Billy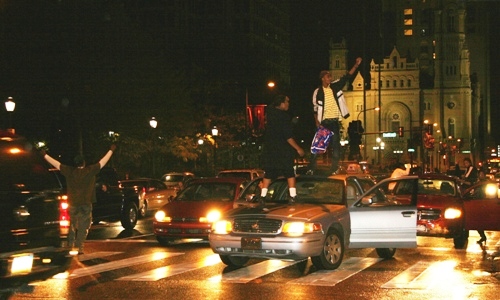 Philadelphia, Wednesday 5 November 2008, 2 am.
Barack Obama has just been elected the 44th President of the United States.
I arrived at Philadelphia yesterday evening, and went to bed early. At 1 am, I was awoken by car horns and hundreds of people crying out in joy in the streets. You cannot stay in your bed in such a historic day... I put my clothes back on, and went outside again with my camera.

People in the streets now are excited and happy. They congratulate each other, they laugh, they shout and dance. Whites and blacks, a lot of black people. You can feel joy and hope in the air.
People will have to come back down to earth, their problems will not disappear in the twinkling of an eye, but this night is their night. Enjoy, folks. We're glad too. You've made the choice of courage and hope. Welcome back, America!