Thursday, October 2, 2008 by Billy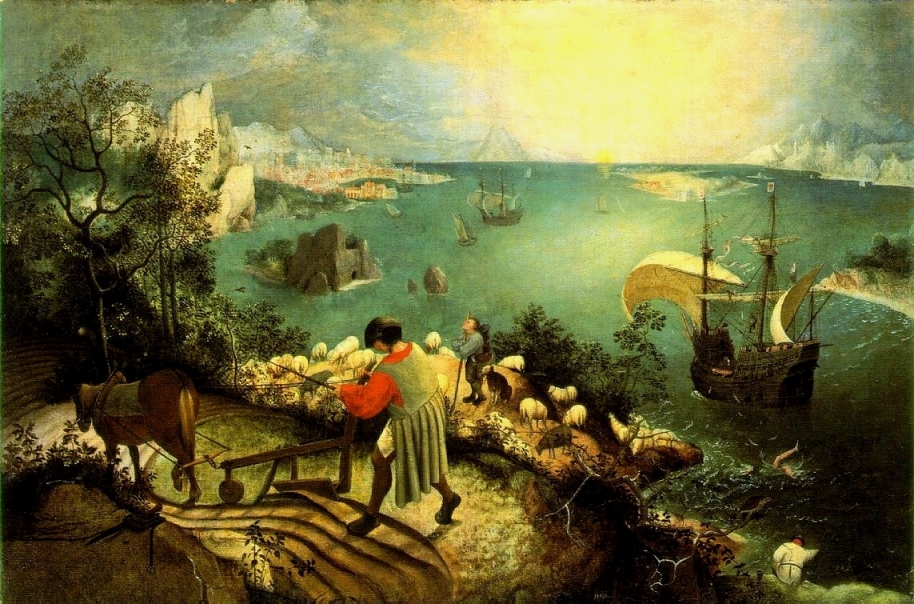 Pieter Brueghel the Elder — Landscape with the Fall of Icarus
[Landschap met de Val van Icarus], ca. 1558
Oil on canvas mounted on wood — 73.5 x 112 cm
Musées Royaux des Beaux-Arts de Belgique, Brussels

I am leaving Paris this Friday morning, en route to Peru where I'll spend ten days. Not another medical conference this time, but mere tourism, with my brother and father. We shall visit Lima, Cuzco, The Machu-Picchu, Lake Titicaca... I feel pretty excited and plan to take a lot of photos there.
There's only one (very little!) fly in the ointment: they don't have the White Night in Lima yet, that will occur on the next Saturday night in Paris and many cities. The White Night is a cultural night of discovery that has been organised every year since 2002 in a growing number of cities, in Europe first, then in the whole world.
Throughout the White Night, museums, libraries, monuments, places of worship, tourist sites, cinemas, parks and gardens, hospitals, swimming pools, universities, etc. will stay open. You can go and see an exhibition at 2 am or visit a library at 5 am if you feel like... you will sleep later, tomorrow is a Sunday.
I usually manage to be in Paris on the Nuit Blanche, as it is called in French. Three years ago though, I was in Brussels, and enjoyed it a lot in this welcoming city. I walked in the streets all night long, listened to music bands, ate mussels with french fries, and went to several museums. The Fall of Icarus by Pieter Brueghel the Elder was exhibited in the Museum of Ancient Art, part of the Royal Museums of Brussels.
I don't know why I've always had the feeling that the scene in this painting occurs in the New World, instead of the Aegean sea... on the Peruvian coasts, maybe, which makes I have now come full circle in the weird associations of idea that made up the present blog.
Poor Icarus... In the painting by Brueghel, his fatal fall is of minor interest.
The ploughman is bent over the ground...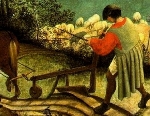 ... the shepherd is looking at the sky...

... and the fisherman is watching at the sea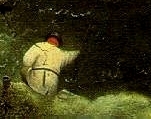 They couldn't care less what happens to a dreamer, a reckless person who dared to challenge the sun.
Les plaintes d'un Icare [Ch.

Baudelaire]
I thought of this melancholy painting today when I read again this poem by Charles Baudelaire.
Les Plaintes d'un Icare

Les amants des prostituées
Sont heureux, dispos et repus ;
Quant à moi, mes bras sont rompus
Pour avoir étreint des nuées.

C'est grâce aux astres nonpareils,
Qui tout au fond du ciel flamboient,
Que mes yeux consumés ne voient
Que des souvenirs de soleils.

En vain j'ai voulu de l'espace
Trouver la fin et le milieu ;
Sous je ne sais quel oeil de feu
Je sens mon aile qui se casse ;

Et brûlé par l'amour du beau,
Je n'aurai pas l'honneur sublime
De donner mon nom à l'abîme
Qui me servira de tombeau.

Charles Baudelaire

Lamentations of an Icarus



Lovers of prostitutes, in crowds,
Are sated and content and cheery,
But as for me, my arms are weary
Because I have embraced the clouds.

Thanks to the stars — O peerless ones!
That flame deep in the boundless sky,
My burned-out eyes can now descry
Only the memories of suns.

In vain I sought to trace and fit
Space in its mid and final stance
I know not under what hot glance
My wings are crumbling bit by bit.

The love of beauty sealed my doom,
Charred, I have not been granted this:
To give my name to the abyss
That is to serve me as a tomb.

Transl. Jacques LeClercq,1958