Sunday, January 21, 2007 by Billy
I read today an agonized call on the website of the SPA (Société protectrice des animaux, the French Society for the Prevention of Cruelty to Animals):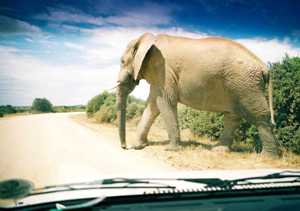 CALL FOR WITNESSES
The SPA is looking for 4 elephants that are part of the Big Foot Show. They were seen in Cavalaire-sur-Mer lately, and we need to find them! If you have any information, please call us immediately (+33 143 xxx xxx or the Internet).
Two and a half months after they made off, nowhere on the web I read news about the cute pets being found again... Therefore, if you ever see elephants on a road close to your place, especially in Europe or Middle East — I mean, elephants whose colour is grey, not pink — no need to go and see a doctor: you might have met the poor little things on their way back to native Kenya.
Losing their elephants... people are absent-minded sometimes, aren't they.