Monday, November 13, 2006 by Billy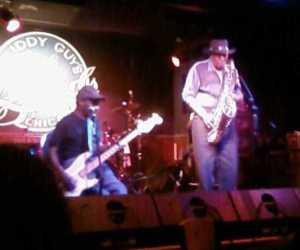 When electricity met the Blues: Chicago Blues
All day long, I have been carrying my digital camera in Chicago streets, parks and museums. It is a good one, but it is also a big one. It's not that heavy, only it is cumbersome. That's why I decided not to take it with me tonight... What a mistake.
Being in Chicago for a couple of days, I had to go and listen to good blues music, and Buddy Guy's Legend was a few blocks from my hotel only. The guys playing in there were Eddie Shaw & The Wolfgang, good music.
Every Time I Sing The Blues
(Buddy Guy & Eric Clapton)
Since I was silly enough not to bring my camera, I took a couple of shots with my cell phone. Little light and the musicians moving a lot with the rhythm, it was a stroke of luck that one photo, although not great, was good enough not to be put directly to the bin.
From now on, I am always taking my camera when I go to a special place, I swear!