Monday, July 10, 2006 by Billy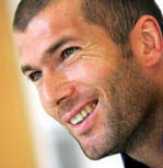 So, 2006 football world cup is finished now. The final ended in a France 1 - 1 Italy draw and Italy won the championship after a penalty kick shootout. It was the last match of Zinedine Zidane, one among the best football players ever. Too bad his last appearance in a stadium has been stained with bad behavior: headbutting Marco Materazzi in the chest was not an error, it was a shame. Granted, he over-reacted to (most likely racist) callings from that guy but, as a professional, he should not give such an "example" to the million young people who were looking at him and admire him all over the world. One will say: he is a man after all. Well, sure, but manners maketh man.

The very notion of racist calling against 'Zizou', as he is usually called, is interesting though. It recalled me what I have been told several times about him lately, as a Frenchman myself, from people with Arabic and/or Muslim culture I was chatting with.

They frequently said:
— You are probably very proud of ZZ as a Frenchman, aren't you? In my country, we are very proud of him, since he is an Arab/a Muslim.

The first time I was told this, I was amazed: Zidane is a Frenchman for sure, and a famous one, but I had never thought of him as being Muslim and/or Arab. This might appear strange in countries where communautarism is normal view of society but, in the French traditional secular way, religions and ethnic origins are not considered noteworthy features, but among far rightists.

A French President or Prime Minister would never mention God(s) in a speech, for instance. Asking someone you are not very close to, what religion he practices might be considered indicative of intolerant tendencies. In secular France, it is forbidden by the Law to ask about ethnicity, religion, or sexual preferences in any official interview, even more to register it. The very notion of "human races", which is not a biological, but segregational criterion, is not used, and French black people are not called 'African French'... but Frenchmen.

Zidane was born and raised in Marseilles, a big city in Southern France, on the Mediterranean coast. He speaks French with typical Marseilles' lilting accent, like characters in Marcel Pagnol and Robert Guédiguian's movies. His parents were born in Algeria, that was a French "province" at that time — a colony actually. Smaïl Zidane, his father, came to metropolitan France in 1952, ten years before the country became independent, and he remained here thereafter. Briefly said, Zidane family is a French family with Algerian roots. Like Canada, Australia or the USA, France has always been a land of immigration, with people coming from Italy, Poland, Armenia, Hungary, Spain, Portugal, Morocco, Tunisia, Algeria, etc. Whatever their roots, they are now Frenchmen.

— Well, OK, he is a Frenchman actually but he is an Arab Frenchman. I am proud of him because he is an Arab, like me.

Hmmm... no, sorry, again, Zidane is not an Arab. His family was originating from an Algerian village called Boukhelifa, near Béjaïa, in Kabylie. His ancestors and family were not Arabs but Kabyles. People in Algeria are not all Arabs. There are about ten million Kabyles also, whose ancestors had been living there for long time when the land was settled by Arabs. Kabyles are part of Berber people, remembered for their insubordination to the power of Roman Empire, two millenaries ago. They speak the Kabyle variety of Berber (Tamazight language). As Zidane himself, Kabyles often have light skin, hair and eye colour.

— It is interesting, I did not know there were not only Arabs in Algeria. So, OK, Zidane is a Frenchman with Kabyle ancestry. I will support him anyway, because I like him and he is a Muslim, as I am.

Yes, Zinedine Zidane is a Frenchman with Kabyle roots, as Édith Piaf and Isabelle Adjani, and many others. As for being a muslim or not, I just did not know before chat friends told me so. He could be indeed, since his family was originating from a place where main religion is Sunni Islam, and Zinedine and Yazid (his other name) are Muslim names. Does it mean he is a Muslim? Not more than me bearing a Christian name necessarily means I am a Christian myself, after all. Checking on the Internet, I found that he answered a couple of time to journalists that he has Muslim culture but does not practice. Who cares anyway, this is individual matter only.