Wednesday, June 14, 2006 by Billy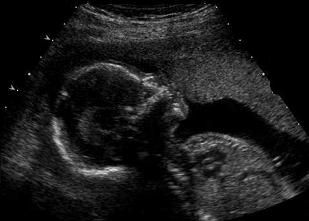 Normal ultrasound - 18 weeks pregnancy
For the first time today, I felt it necessary to post something related to my work rather than my hobbies. The issue is worth to be told about indeed, for the information of the ten thousand people who read the present blog every day, ha-ha.
In a group of 209 babies born to women taking Angiotensin-Converting Enzyme inhibitor drugs (ACE inhibitors) in the early stages of pregnancy, a recent study reported that 18 or 7.1% of the infants were born with serious birth defects.
ACE inhibitors are a class of drugs used to treat high blood pressure. They work mainly by relaxing blood vessels and they are often prescribed to people with diabetes. ACE inhibitors include benazepril, captopril, enalapril, fosinopril, lisinopril, moexipril, quinapril, ramipril and trandolapril (these are international names, brand names mostly differ among countries).
Use of ACE inhibitors is contraindicated during the second and third trimesters of pregnancy because of their association with increased risk of fetopathy and renal side effects in the newborn. In contrast, they are not contraindicated in the first trimester of pregnancy — albeit animal reproduction studies have shown an adverse effect on the fetus — because there are no adequate and well-controlled studies in humans and potential benefits may warrant use of the drug in pregnant women despite potential risks, as indicated in drug information sheets (in Europe and USA at least).
The recent study determined that infants exposed to ACE inhibitors in first trimester were about 4 times more likely to suffer cardiovascular problems and 5 times more likely to have central nervous system malformations when compared to infants exposed to other medications or no antihypertensive drugs at all. One-third of the birth defects involved the heart, one-quarter the limbs or the face, and one-tenth involved the brain or spinal cord. Some defects, such as the heart problems, might be curable with surgery or other treatment, but others resulted in retardation or permanent disability.
As highlighted in an accompanying editorial, this study demonstrated the risks of taking known and unknown drugs before and during pregnancy. Women who are considering getting pregnant should talk to their doctor before taking any medications, since "birth defects caused by teratogenic treatments are preventable" the editorial said. "A woman who learns she is pregnant while taking an ACE inhibitor should immediately be switched to another antihypertensive agent to minimize the risk of fetopathy [...]. Detailed fetal ultrasonography and echocardiography at about 18 weeks of gestation should be offered to women who have taken such drugs in the first trimester of pregnancy."
Indeed. And also, one cannot but wonder: "what did pharmaceutical companies selling ACE inhibitors already know but did not say?"