Thursday, July 17, 2008 by Billy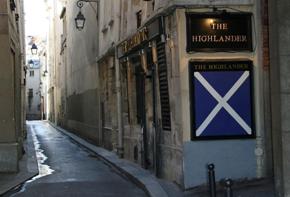 The Saltire flag of Scotland
(The Highlander, a Scottish Pub in Paris)
I arrived in Scotland two days ago, for a 9-day vacation trip in the country of William Wallace and Sean Connery. News from the Castles and Highlands to come then, and from Nessie also perhaps, who knows?
Scotland is not an independent country anymore, therefore it does not have a national anthem. Yet a few songs are used instead, that convey Scottish will to differentiate themselves from the rest of Great Britain.
It is especially the case of Flower of Scotland, the beautiful, patriotic song by The Corries. Resolutely directed at the English, the song celebrates Robert the Bruce's victory against the troops of King Edward II at Bannockburn in 1314.
O Flower of Scotland
When we sill see
Your like again
That fought and died for,
Your wee bit Hill and Glen
And stood against him, Proud Edward's army
And sent him homeward
Tae think again.
In particular, Scots break into Flower of Scotland at the Highland Games — sometimes — and before a match by the Scottish national rugby team — always.
Edinburgh, 17 March 1990. Scotland previously defeated Wales, Ireland and France in the Five Nations Championship. Today, in Murrayfield Stadium, the last match in this championship is about to start, against the auld enemy and hot favourite, England, undefeated also. Victory in the Championship, and a Grand Slam, are at stake.

Players are on the field. Five minutes ago, while the English team ran into the Stadium as usual, David Sole, who captains the Scots, deliberately walked his men onto the pitch, in a slow, belligerent march, to deafening cheering of the home crowd.
English against Scots. Hundred years of conflicting history. Furthermore, British Prime Minister Margaret Thatcher has experimented the Community Charge (aka Poll Tax) for one year in Scotland only, leading to massive disobedience, and riots to come shortly in the whole country.
Scotland vs England — 17 March 1990
Both teams are lined up in front of the VIP stand. Fifteen English players bravely sing God Save the Queen as strong as they can, while TV cameras slowly pass in review the staring faces of every Scot player fixed in a provocative silence. For the first time in their history, they don't sing the anthem.
Then, David Sole turns his head toward the musicians, and bagpipes start playing, while the Scottish team and whole home crowd — 50,000 souls — all together launch with fire into Flower of Scotland.
Needless to stay, Scots won the match and the Grand Slam. On that day, they just could not lose.