Sunday, February 18, 2007 by Billy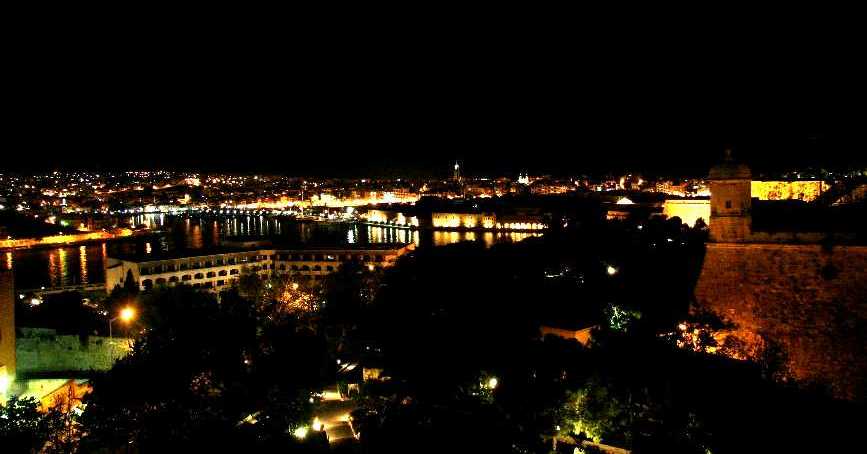 Grand Harbour by night — Valletta, Malta, Feb. 2007.
— Here are your keys, Sir. The car you've rented is in the parking just outside. Don't worry, it's very close: you only cross the road in front of the terminal, then turn right on the sidewalk. After about 100 meters you'll see a yellow line. You follow it and you've got your car in two minutes. By the way, your car is yellow also, ha-ha. It is a yellow Hyundai Atos.
I had no idea what a Hyundai Atos looked like. Only I had rented a small car, together with my plane ticket to Malta and hotel reservation. I had arrived to Malta airport at 6:00 pm only and it was dark. Therefore, I could not see any yellow line, yet there seemed to be hundreds of yellow cars in this huge ill-lit parking. At the end, after maybe 20 minutes, a yellow car by chance wore the correct plate number. I put my suitcase and bag into the rear boot, opened the driver's door and... what? the steering wheel is on passenger's side? Oh merde! They drive on the left in Malta!
So... It was dark. I wanted to go to a hotel in a town called Floriana — it is just before Valletta, the capital city, the car rental guy had said, you cannot miss it, yet I was supposed not to be able to miss the yellow line either — using a car with everything on the wrong side. Have you ever tried to run through the gears on a mechanical gearbox with your left hand? (Note: this is a question for non-British right-handed people only). I tell you, it's a must, especially by night, in a foreign country, when you don't know precisely where you are going.
There were mainly one-way roads fortunately, but there were roundabouts also. Oh merde, again... should I drive round clockwise or counterclockwise? Of course, every Maltese driver had just decided they should not come here and show me. Hehe, a frog doesn't ever let himself be overawed by British traps though: I astutely pulled over, until another car showed me they do this... the wrong way also, clockwise, of course!
Twenty minutes later and after a couple of wrong roads taken, I finally arrived at the city. Hey, I am lucky now, I thought, here is the sign of my hotel. I turned left towards the sign, looking for a place to park. You know, policemen are very polite here.
— Sir, did you notice you were driving on the right, just before you went the wrong way up this one-way street? he asked. I groped around a few seconds to find a way to open the window and answer him, could not find the button (it was mechanical handle also), and at the end opened the door, went out, and apologized.
— I am sorry Sir, I'm not used to driving on the left and I was so glad to see my hotel at last!
He looked at me with such a pitying look that I could almost hear his thoughts (the poor guy is a Frenchman, and probably he is a little challenged also).
— It's okay, he said, showing me a parking space, you can park here. Quick please.
Guys, I have a funny game for you to play: by night, with your left hand, on a mechanical gearbox, with a policeman watching at you, try to reverse into a parking space between two trees. Believe me, it will be fun. Well, at the end, I succeeded. My luggage in hand, I entered the hotel and checked in, an enormous smile on my face as I was thinking of Jerome K. Jerome novels...
-----
I am in my room now. The weather is warm and soft, with little wind. It is Carnival, I can hear the music coming up from the streets. I am sitting on my room's balcony, looking at the scenery I took a picture of and displayed above. I am in vacation for four days. Yay!